THIS IS A NFA ITEM, AND CAN ONLY BE SHIPPED TO SOT DEALERS. PLEASE BE SURE TO HAVE YOUR FFL/SOT DEALER INFORMATION ON FILE WITHIN 24 HOURS OF PLACING YOUR ORDER OR THERE MAY BE AN ADDITIONAL WAIT.  
Orders will be filled in the order they were received.  IN-STOCK orders should expect a shipment time of around two weeks, based on ATF approval of transfer to your SOT dealer.  
Introducing the Maverick Recoil Suppression System
New from Area 419 is the Maverick. This is a reimagining of the muzzle device, meant to provide you the performance of a brake and the in-match comfort of a suppressor, as well as give you the option to train or hunt with the most versatile precision suppressor system on the market. The system uses the patented Hellfire Self-Timing technology, allowing the brake configuration to control the muzzle like nothing else on the market, and utilizes Hellfire and Sidewinder Universal Adapters with left-hand threads to ensure that the system will not loosen with use. 
We think it will forever change the way you look at muzzle devices for precision rifles.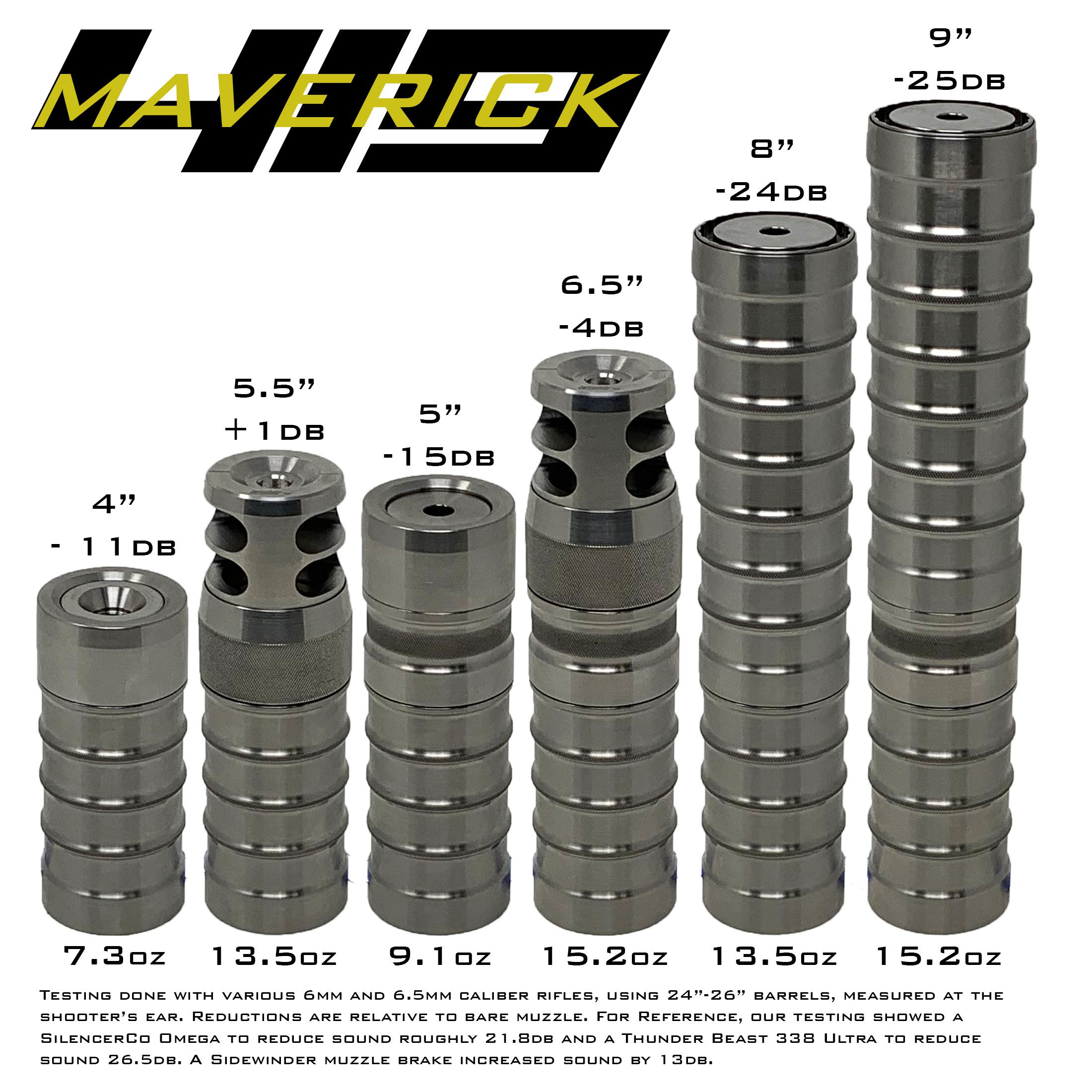 SPECIFICATIONS:
Total Length (Training Configuration): 8" or 9.2″
Total Length (Competition Configuration): 5.5" or 6.6″
Total Weight* (Either Configuration): 13.5oz in 8″, 15.2oz in 9.2″ configuration
Diameter: 1.72"
Materials: Core – 6AL4V Titanium & 17-4SS, Brake – 17-4SS, Stage 1 & Stage 2 – 6AL4V Titanium (Grade 5), Thread/Taper Protector – 7075 Aluminum
Finish: High Performance Thin Film PVD, Smoke color Tubes and Brake (DLC), Gold Endcaps (TiN)
Construction: Weldless, Compression Taper Fit
Rating: Any Short Action Cartridge over 22″ of barrel length, 308-class to 20″, 223 class to 16″
WHAT'S IN THE BOX: 
ALL UNITS
1 – Maverick Core (Hellfire or Sidewinder Mount)
1 – Stage 2 Module (6.5mm or 30cal)
1 – Maverick Brake 
1 – Hellfire or Sidewinder Universal Adapter in 5/8×24
1 – Wrench (not user serviceable, wrench is to aide in installation/removal should you desire)
9.2″ CONFIGURATION UNITS ONLY
1 – Stage 1 Module
1 – Thread and Taper Protector Ring
*Total weight is based on Sidewinder mount and does not include the Sidewinder Universal Adapter